WHAT'S THIS NEW DEWTOPIA?
We'd like to introduce you to Dewtopia 5% Acid Night Crème, the nourishing baby sister to our Dewtopia 20% Acid Night Treatment. The Dewtopia duo share similar benefits but are formulated at different potencies and deliver said potencies in different ways.
Though Dewtopia 5% Acid Night Crème may be gentler thanits serum sis, it's still a powerful retexturizing night cream. Formulated with 5% AHAs and edelweiss stem cell, it deeply hydrates, retexturizes, evens skin tone and visibly reduces fine lines, wrinkles and dark spots.
This moisturizer truly feels like you've entered skincare utopia with its plush, rich texture and fresh lemon sugar scent. And, of course, it's clean, vegan and cruelty free and contains less than 1% synthetic fragrance.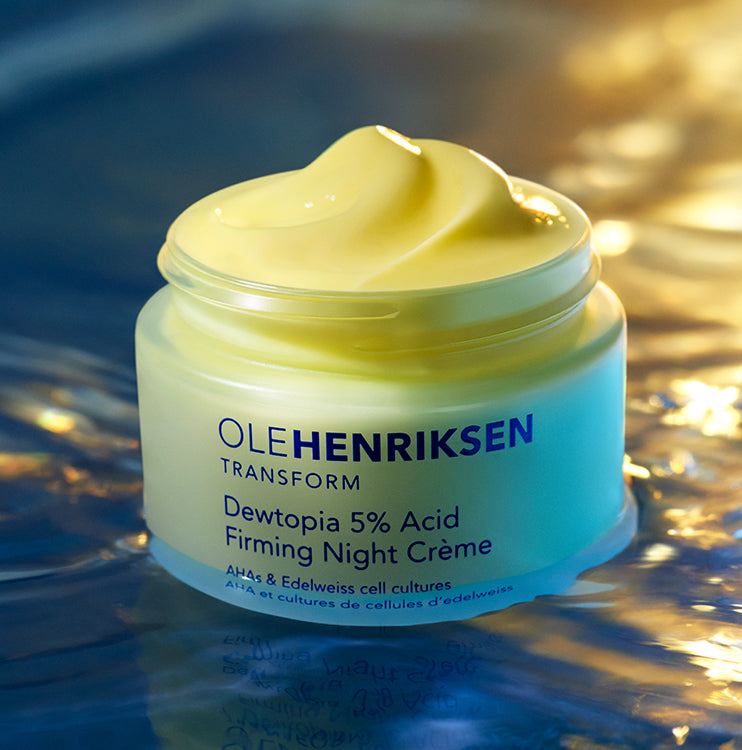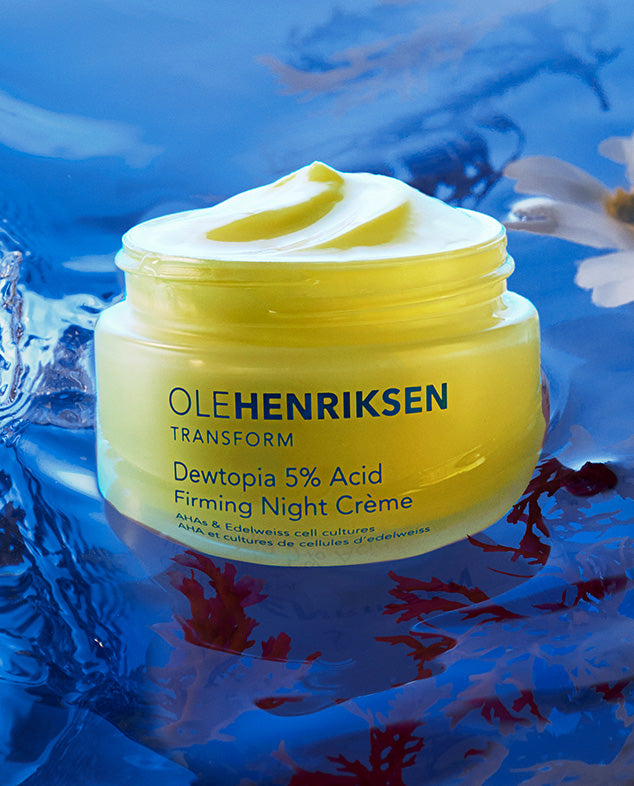 WHAT DOES IT DEW?
Formulated with the perfect balance of exfoliating and nourishing ingredients, this concentrated night cream completely transforms your complexion.
It chemically exfoliates the surface layer of your skin with high-potency glycolic and lactic acids, loosening and lifting dead skin cells, and then instantly replenishes skin with ultra-nourishing shea butter, allowing brighter, softer skin to shine through.
WHAT WILL IT DEW FOR ME?
What if we told you that 100%*of people said that this moisturizer revealed softer, smoother skin? That's because we formulated this nourishing night cream with alpha hydroxy acids (glycolic and lactic acids) which are chemical exfoliants that help loosen and lift dead skin cells to reveal smoother, more even skin. They also reduce the appearance of dark spots, fine lines and wrinkles.
Think about this—you could be like the 97%* of users that stated that this AHA night cream replenishes moisture and renews skin overnight. We can thank our star ingredients edelweiss stem cell, an herbaceous plant that helps promote skin firmness and improve the look of fine lines and wrinkles, and shea butter which is rich in essential fatty acids (EFAs) and vitamins, working as an emollient to help hydrate and nourish skin.
*In a 12-week clinical study on 38 people.
HOW & WHEN DEW I USE IT?
Despite being an active treatment moisturizer, Dewtopia 5% Acid Night Crème is gentle enough to be used every night. At OLEHENRIKSEN, we've developed a skincare guide called The Glow Cycle what works as a routine outline for all skin types. Along with nourishing moisturizers, every person's Glow Cycle should consist of vitamin C and in the morning to brighten and chemical exfoliants at night to
renew. As you can guess, Dewtopia 5% Night Crème would fit perfectly into the nighttime portion of YOUR Glow Cycle.
If you're new to acids and chemical exfoliants, we recommend easing your way in. Dewtopia 5% Acid Night Crème is a GREAT starting place for exfoliant newbies. If that sounds like you, we recommend using Dewtopia Night Crème once a week (and then opting for a gentler moisturizer on the "off" nights, such as Strength Trainer). Work your way up to using it 2-3 times a week. Then once your skin adjusts, you can use it nightly.
CAN I USE DEWTOPIA NIGHT SERUM & DEWTOPIA NIGHT CRÈME TOGETHER?
Yes, we formulated the Dewtopia family to be used together. In fact, we've even got a Dewtopia Duo. But ye be warned! If you have sensitive skin, we recommend using them on alternating nights.
Need some skin-spiration? Try this out: Use Dewtopia 20% Acid Night Treatment and Strength Trainer Moisturizer one night, and then Dewtopia 5% Acid Night Crème the next. Then, when you use your Banana Bright Serum in the morning, your skin will be reset and ready to absorb all the benefits vitamin C has to offer.
DEW NOT FORGET
WHEN IN DOUBT, TEST IT OUT!
We formulated Dewtopia to be potent and powerful in order to give you your glowiest skin ever, but active formulas, even nourishing ones like Dewtopia, can be a little jarring to some in the beginning. We always recommend testing a small amount on your forearm.
SUNBURN ALERT!
This product contains an alpha hydroxy acid (AHA) that may increase your skin's sensitivity to the sunand particularly the possibility of sunburn. Use a sunscreen, wear protective clothing, and limit sun exposure while using this product for a week afterward.
WANNA KEEP LEARNING?
Learn where to add Dewtopia 5% Acid Night Crème in your nighttime skincare routine with our blog about precisely that topic, found here: "How to Start a Nighttime Skincare Routine".