HOW TO MOISTURIZE YOUR FACE
Hydrated skin is happy skin. When you're perfecting your skincare routine, finding a great moisturizer is an absolute must. Not only does it feel like a moment of self-care, it's a non-negotiable step in achieving the #OleGlow.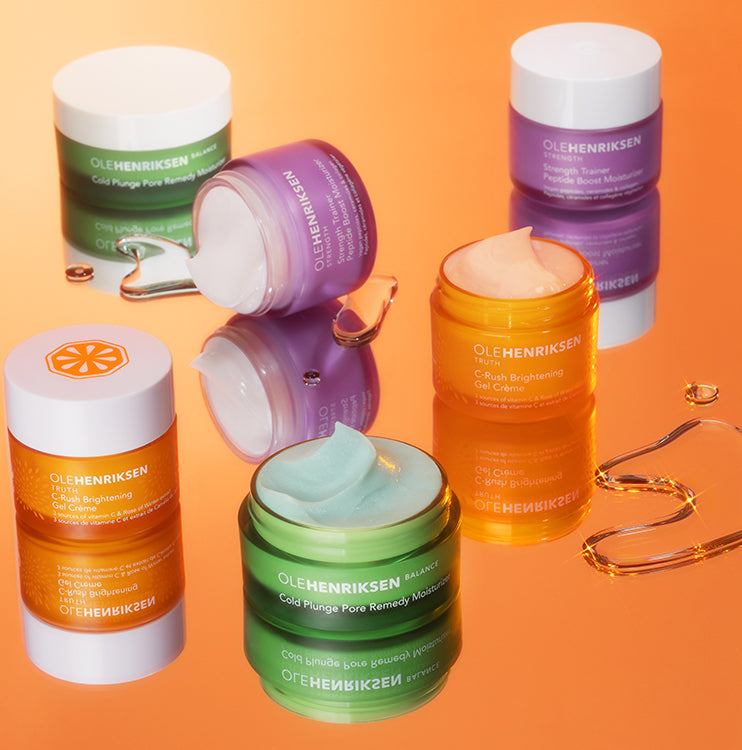 Every skin type—even oily skin—needs moisture to function properly, and thekey is to find the right formula for your skin type. Using a moisturizer designed for your skin type helps hydrate skin and balance your natural oil production. Moisturizing can also help prep skin for flawless makeup application.
You might be wondering, "How often should I moisturize my face?" For the answer, read up
on The Glow Cycle, our easy daily routine for bright, glowing skin. Not only can you use the same moisturizer both day and night, your skin barrier will get a boost from the peptides in Strength Trainer, a bestselling moisturizer that's made for all skin types.
Want to explore more moisturizer options? Meet our hydrating lineup!
Ready to find your new everyday moisturizer?
Meet our hydrating lineup!
OILY SKIN
Cold Plunge Pore Remedy Moisturizer
Meet our favorite face moisturizer for oily skin: This lightweight, mattifying hydrator gives oily and combination skin types the essential moisture they crave. This innovative moisturizer is powered by Green Fusion Complex™, a proprietary blend of potent active botanicals, and rosehip fruit extract to help fight shine, reduce the look of pores, and even improve foundation wear for up to 8 hours. This facial moisturizer delivers just the right amount of hydration to keep skin matte with a healthy-looking glow.
THIRSTY SKIN
This lightweight vitamin C moisturizer instantly brightens the complexion, firms and targets fine lines and wrinkles. But that's not all: It keeps skin hydrated for up to 24 hours. Powered by three sources of vitamin C and Rose of Winter, it delivers a rush of brightness you can C. Plus, this face moisturizer smells delicious, so it's like a little energizing pick-me-up every time you apply it.
FATIGUED SKIN
Dewtopia 5% Acid Firming Night Crème
While you're sleeping, your skin goes into restoration mode—that's when thisresurfacing night cream gets to work.
Formulated with the perfect the perfect balance of exfoliating and nourishing ingredients, this concentrated night cream completely transforms your complexion. It chemically exfoliates the surface later of your skin with high- potency glycolic and lactic acids, loosening and lifting dead skin cells, and then instantly replenishes skin with ultra-nourishing shea butter, allowing brighter, softer skin to shrinethrough.
ALL SKIN TYPES
Strength Trainer Peptide Boost Moisturizer
If your moisturizer hasn't been working out (ha, get it?) and you feel like you're losing glowtivation, we have just the trick: Strength Trainer Moisturizer. This ultra-moisturizing whipped gel crème is here to restore major bounce and resilience to your skin. Packed with ingredients that your skin barrier can't get enough of—peptides, vegan collagen, ceramides and hyaluronic acid—it instantly doubles hydration and helps your skin retain moisture throughout the day.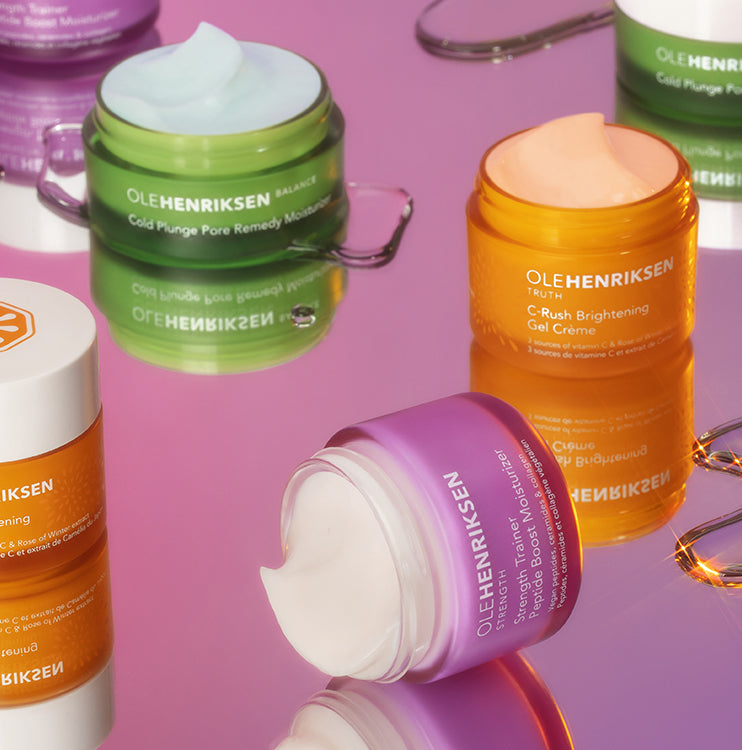 PRO TIP: SEAL IN MOISTURE WITH HYDRABARRIER


Hydrabarrier Nourishing Face Oil isn't your typical face oil—it instantly locks in essential moisture and maximizes your entire skincare routine. At night, apply 5-6 drops after moisturizer and let it soak in overnight to replenish skin. Try it over formulas with a high concentration of actives, such as AHAs or retinol, to help nourish and strengthen skin while you sleep.
This super-absorbable oil instantly sinks into skin to boost hydration and diminish the look of fine lines and wrinkles. It's clinically tested to improve skin texture by 25% * and strengthen your moisture barrier by 19% in just one day.* For your strongest skin, we recommend pairing it with Strength Trainer Peptide Boost
Moisturizer.
BONUS TIP:
DON'T FORGET YOUR BODY
BeamCream Moisturizer & Firmly Yours Dry Body Oil Moisturizer isn't just for the face! Your body deserves a healthy dose of hydration to promote firmness, exfoliation and overall comfort. Get infinitely more touchable skin in 2 steps with our hydrating body care duo, BeamCream Smoothing Body Moisturizer and Firmly Yours Toning Dry Body Oil. The moisturizer is supercharged with AHAs and caffeine to exfoliate, brighten and hydrate skin while the oil is packed with peptides and sweet white lupin to seal in moisture and firm skin.
Need more help choosing the right products? Explore The Glow Cycle Finder, which gives you fast, free recommendations personalized for your skin type and skincare needs.