VITAMIN C 101
Vitamin C: a true skincare superhero
There is a reason Ole Henriksen touts vitamin C as a "gold standard" skincare ingredient. Vitamin C is a powerful and nourishing antioxidant that helps keep skin in balance by neutralizing free radicals — unstable molecules that cause cell damage from environmental stressors and pollution. Paired with SPF, this ingredient can even help protect skin from UV damage. Adding vitamin C-powered skincare into your morning routine can add a layer of daily defense to your skin, improving skin barrier function. And the benefits don't stop there...did you think we'd forget to mention those famous brightening qualities?
THE OLE APPROACH TO VITAMIN C
To us, vitamin C is a non-negotiable in everyone's Glow Cycle. The Glow Cycle is Ole's daily skincare routine philosophy that calls for brightening vitamin C in the morning, renewing chemical exfoliants at night, and strengthening peptides morning and night. To Ole (our founder) and the OleHenriksen team, vitamin C is a skincare pillar. So, rather than simply adding vitamin C to a product, we analyze at how it plays with other ingredients, how to maximize the benefits, and how to create different formulas for different skin needs. Vitamin C is a great multitasker—if you have skin goals around aging, dullness, acne scars, protection or hydrating, chances are vitamin C can help you get there.
WHO SHOULD USE PRODUCTS WITH VITAMIN C?Most people incorporate vitamin C into their skincare routines after learning about its benefits. Different types of vitamin C exist to address certain skin concerns more directly, or within a formula that's suited for particular skin types. All skin types should be able to tolerate and benefit from vitamin C to an extent. A good rule of thumb is to tread more lightly with vitamin C concentration for sensitive skin, cystic acne, or other compromised skin types.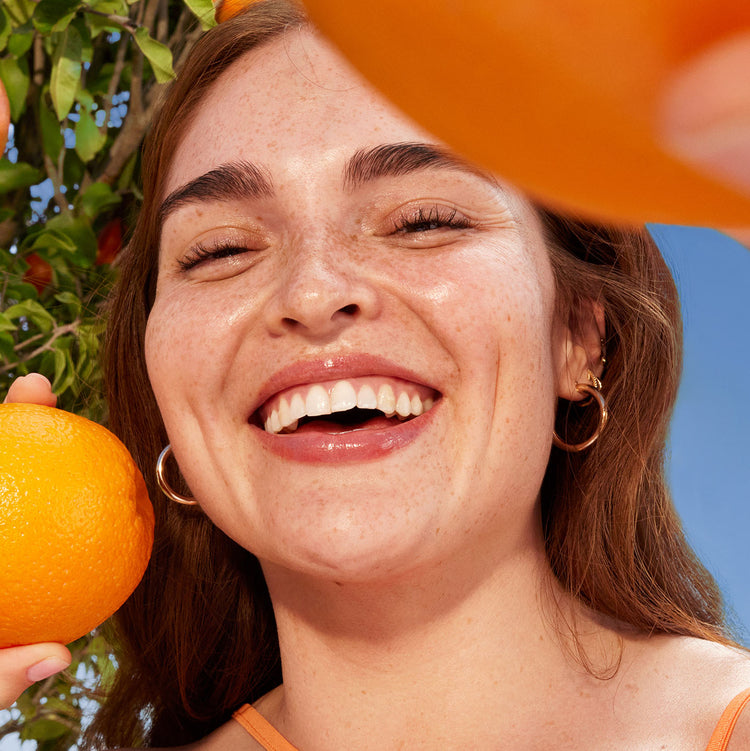 FINDING THE BEST VITAMIN C SKINCARE PRODUCTS AND ROUTINE
Truth Serum and Banana Bright Serum are two top options for maximum skin-boosting results, with a different approach and mix of ingredients for their own unique formulas.
Truth SerumOur Truth Serum is iconic, and for good reason. A great introduction for people who are new to vitamin C skincare products, it utilizes a specific form of vitamin C that allows a gentler, milder delivery of ingredients to the skin. Made with our True-C Complex, Truth Serum works like a daily multivitamin for your skin and (bonus!) is also boosted with collagen. One of Ole's first formulas, it's our best face serum for brightening, firming and all-day hydration. That dewy skin look is only seconds away with Truth Serum!
BANANA BRIGHT VITAMIN C SERUMFor more advanced users of vitamin C products, our Banana Bright Vitamin C Serum is the ultimate vehicle for a more potent delivery of the ingredient to your skin. A stronger form of vitamin C than our Truth Serum, Banana Bright Vitamin C Serum is formulated with 15% vitamin C, 5% PHAs (polyhydroxy acids) and hyaluronic acid to instantly brighten and help revive and retexturize dull skin. The exfoliating acids loosen dead skin cells from the surface of your
skin, which helps the vitamin C to sink in and give your skin an antioxidant boost for radiant, bouncy skin.
READ ON TO C MORE VITAMIN C SKINCARE STARS!
C-Rush Brightening Gel Crème
Powered by the three high-potency sources of vitamin C and Rose of Winter extract as our original C-Rush™ Brightening Gel Crème, this ultra-plush hydrator instantly illuminates skin with a nourishing rush of brightness. With the added benefits of shea butter and grape seed oil, you'll also an energizing burst of moisture.

BANANA BRIGHT+ EYE CRÈMEElevate your newly glowing skin with an eye cream. Our Banana Bright+ Eye Crème is a brightening and firming vitamin C eye cream that improves the wear of concealer and instantly reduces the appearance of fine lines and wrinkles. This eye cream glides onto the skin to not only color correct, but also target the appearance of dark circles and illuminate the delicate skin around the eyes. The result? A fresh, bright-eyed appearance that rivals that of an 8-hour night of sleep. Shop now

BANANA BRIGHT FACE PRIMERBlur the lines between brightening and hydrating. Our illuminating vitamin C-infused primer not only preps and mattifies the skin, but simultaneously hydrates and extends makeup wear. Inspired by Ole's time observing makeup artists in Hollywood, Banana Bright Face Primer uses cult-favorite beauty ingredient "banana powder," to instantly brighten. The choice is yours -- wear this vitamin C hero on its own, underneath makeup or mixed into your foundation. Shop now
 
READY TO CREATE A CUSTOM SKINCARE ROUTINE FEATURING VITAMIN?

STEP 1: CLEANSERCreate a clean slate with a clarifying cleanser that removes dirt and oil while prepping the skin for the skincare steps that follow. Our Truth Juice™ Daily Cleanser contains orange fruit water and PHA, effectively removing dirt, oil and longwear eye makeup to reveal refreshed, energized skin.
STEP 2: SERUMGet that boost! Choose between our Truth Serum, the perfect introductory vitamin C product, and our Banana Bright Vitamin C Serum, the preferred option for those whose skin is used to vitamin C skincare products.
 STEP 3: MOISTURIZERUse a moisturizer daily to keep your complexion comfortable and dry skin at bay. Choose between our C-Rush Gel for a double dip of brightening and hydrating, or Strength Trainer Peptide Boost Moisturizer for more focus on the skin barrier.
STEP 4: EYE CREAMBe bright-eyed. Add a special layer of eye cream to help instantly color correct, hydrate and reduce the appearance of fine lines and wrinkles. Grab your Banana Bright+Eye Crème to get that extra dose of brightening and firming vitamin C.

STEP 5: SPF Don't forget to protect with Banana Bright Mineral Sunscreen SPF 30! Use SPF every day, layered on top of your skincare products (but underneath makeup). Re-apply throughout the day, every few hours or so, especially if you are directly exposed to the sun, water
or sweat.
Not sure which OLEHENRIKSEN vitamin C skin solution is right for you? Take our Glow Cycle Finder!